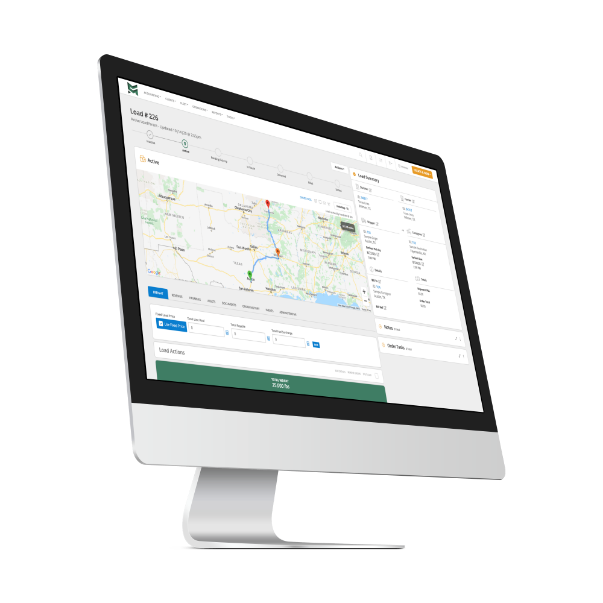 The Magnus TMS streamlines processes, improves dispatch communications, and saves your company time and money. Our SaaS-based TMS is scalable, secure against cyber-threats, easily integrates with other solutions, and updates automatically. It simplifies freight transactions, back-office operations, and drivers' workday to increase profitability.
THE MAGNUS PLATFORM
Carrier Operations Simplified with Next-Gen Technology
The Magnus Technologies Platform is more than a truck dispatching system. The Magnus Transportation Management System (TMS), Magnus Driver App, and Magnus Carrier Advantage provide the total solution for order creation, fulfillment, and settlement for carriers and brokers. We simplify the process by bringing together all steps to streamline your business to reach the highest levels of efficiency and profitability.
Our cloud-based TMS seamlessly delivers a complete, end-to-end mobile dispatch and order-fulfillment solution to maximize profitability and growth.
MAGNUS TMS
The Magnus Mobile Driver App is loaded with driver-centric workflows for pickup and delivery tasks, such as viewing pay for upcoming or completed loads, requesting time off, and more!
MAGNUS DRIVER APP
With Magnus Carrier Advantage, you can eliminate the middleman. Our Carrier Advantage network enables Magnus Technologies customers to "broker" with other members for an end-to-end automated fulfillment process. Simply click a button to seamlessly share load information throughout the lifecycle of the transaction.
MAGNUS CARRIER ADVANTAGE
>
Driven by Real-World Results
One of our largest customers didn't have integration technology, forcing a lot of manual effort. In only a few weeks of effort, Magnus developed and implemented an automated process to ensure their orders and order documents were automatically imported into the platform. This was completed without any additional work from our internal resources or our customer's IT resources (which were spread thin).
Jason Cook, Head of Operations | Pasha
Our company uses Magnus Technologies TMS as our only operating system. The system works great for our needs, both internally and externally. The support staff is one of a kind, always available.
I would recommend and put this group above all other IT support staff that I have worked with in my 38 years of experience in the car haul business.
Paul Brooks, Controller | LNR Auto Transport, LLC
I can't give enough thanks for our Support Team at Magnus.  They are always on top of any issue we have, whether it is during business hours or even a phone call after hours for an update on a project they were working on earlier.  If we can't figure it out I know all I have to ask and they will.
Tonia Brown, Sr. Operations Manager | Proficient Auto Transport
Technology is at the foundation of our success in the industry and our competitive advantage in the market. Magnus TMS is the bedrock of that foundation, allowing us to offer customers: order visibility, tracking, invoicing, and real-time event reporting and delivery confirmation.
United Road Services
Within two days of using the Magnus TMS, I'm already much more comfortable doing everything I need to do than I was in 9 months of using our former legacy software.
Woody, Terminal Manager | Pasha
Learn more About How We Help Our Clients
Streamlined Ordering Process
Orders Can Be Entered via EDI or Manually in One Central Location
The Magnus TMS makes taking orders as quick and painless as possible. The order entry workflow has been designed from the ground-up to streamline and simplify this process. Whether you need to take ad-hoc orders directly from customers, templatized repeat business, batch uploaded via spreadsheet, or via a direct EDI integration to a shipper, Magnus has you covered.
Load Planning Simplified
Build the Load, Make Assignments, and Confirm with Drivers
The Magnus TMS includes a load planning module that provides the right level of intelligence, at the right time, to make this decision-making process as effective and efficient as possible. And because the Magnus Technologies Platform includes built-in data-science capabilities, the system continuously learns from previous decisions so that the suggested loads and drivers match the unique nuances of your business operations.
Mobile App for Drivers
Picking Up and Delivering Loads Made Easy So the Driver Can Focus on Driving
In addition to providing updated load information and tracking the status of the load based on the driver's actions, Magnus Driver App includes a full document management module that supports the electronic capture of printed documents and any required signatures. These documents and signatures are automatically linked to the load in the Magnus TMS, so the operations team has full visibility.
Real-Time Tracking for Customers
Customers Can Watch in Real-Time as Their Loads are Moved and Delivered
The Magnus TMS system includes both a web-based application (Magnus TMS) for your front- and back-office teams to fulfill their responsibilities and a mobile driver app (Magnus Driver App), both seamlessly integrate your entire team, including your drivers, and stay in sync, in real time.
Invoicing and Payments Made Easy
Create Customer Invoices and Make Payments at the Click of a Button
The Magnus TMS and the Magnus Driver App feature a document management system and a ratings module capability, settling your receivables and submitting invoices are easily completed manually or automatically. Included in the platform are accounting and payroll modules that can be fully integrated with leading general ledger and payroll providers via a file-based approach or directly via APIs.
Business Intelligence
Access to a Full-Featured Reporting Suite and Industry Analytics
The Magnus Platform provides you with a customizable reporting tool where you can create reports tailored to your business needs to improve your bottom line. Additionally, our solution provides industry analytics for insight into operational and industry data to explore and manage trends in order to drive better business decisions.